About Plumbers Service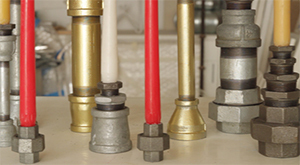 In any remodel or replacement there are a variety of decisions. Turn to our Plumbing Service for advice on what fixtures are best suited to your kitchen or bath. We can shop for you or give you guidelines on the best solutions. We work with all manufactures. We recommend Kohler and American Standard fixtures. We are factory warranty service providers for Rheem water heaters for their tank type and tankless water heater units.
We also provide gas line installation or repair. If you wish to replace your electric stove, dryer or fireplace with gas, we expertly and safely install a gas line. Should you encounter a problem with your current gas line, we have the tools to investigate, locate the issue and repair to your satisfaction. Small & Large Plumbing Projects. From small kitchen, to whole house plumbing, commercial or residential, turn to us for a professional but friendly job.
Our professional Plumbing company is equipped and able to handle any size plumbing project requirement. Our family company enjoys the opportunity to keep your family home beautiful and well plumbed. Turn to us time after time for professional plumbing remodels and replacements. Schedule an appointment today to get started with your plumbing project or contact us with any questions you might have regarding our expert plumbing services. When you call us you will never have to worry about us being on time, and us leaving while there is a smile on your face.
Plumbing Services
We'll clear clogged drains, plugged toilets and backed-up Sewer lines – We're the experts on everything in your household. Slow moving and backed-up drains are a nuisance and unsanitary. When you need sewer or drain cleaning service, we'll be there today! It's easy to forget your sewer and drain lines until it's too late and they get clogged – or worse! We can clear drain problems and stopped-up drains today. With video camera line inspection we can detect damage from plant roots, shifting soil or wear. Our plumbers are clean, courteous, expert sewer and drain specialists. We do completely thorough clean up, you won't even know we were here. We have the equipment, products and expertise to clear up the toughest drain pipe problems.
Our team of plumbers, drain and sewer technicians and customer service staff are dedicated to making our plumbing services a pleasant experience for our Texas customers. You're right, it's done right. And our plumbers stand behind each and every plumbing, drain cleaning, sewer and water heater job. Read about our guarantees on our other pages. Ship shape, that's how we run things at our Plumbing company. We deliver the best in customer service and adhere to industry best practices and our professional affiliations help us stay ahead of the competition.
We can handle any plumbing, hot water heater and drain need for your Texas home. Our experienced plumbers will quickly diagnose your situation and present options and pricing to repair your plumbing problem. Your plumbing system doesn't care what time it is. Plumbing problems can happen any time or any day. We're here to help. If you have a plumbing emergency, just call and we'll get a plumber out to fix the problem. This, you can absolutely count on, no matter when you need our help.
Houston Service Areas : 281-346-3195‬
Dallas Service Areas : 972-656-9578
You deserve to know the final cost before any plumber starts work. Call us to fix your plumbing needs and our professional plumbers will diagnose your situation, prepare honest upfront pricing and have you approve the cost before we begin. Our Houston and surrounding areas Texas Plumbers can repair any plumbing problem, clogged drain or hot water heater breakdown in your home. Call the courteous, respectful, licensed TX plumbers for all your home plumbing repair, replacement and installation needs. Call us today!